Today is Linda's day off and she's excited its finally November. It's her favorite time of the month because she hosts a big Thanksgiving dinner every year and gets to have her kids' home from college for an entire week.
Since it's Linda's day off, she decides to switch out her decorations from Halloween to Thanksgiving. She starts by packing all her yard ghosts, pumpkins and yard signs by putting it all back into the storage bins. Once it's all packed up, Linda carries her extremely heavy bin to the storage closet by her washer and dryer. 
Signs of Mold: Mold Growth
Once she opens the storage closet door to place back her Halloween decoration bin, she's instantly terrified! Mold has been forming all over her walls and ceiling. She immediately takes everything out of her storage closet and begins spraying it down with bleach.
Although she was planning on decorating for Thanksgiving, Linda decides to finally call it a day. After all, she spent half of her day cleaning off mold.
A week goes by, and it's the weekend. Linda's kids will be home from college soon and she needs to start decorating the house for her Thanksgiving dinner. So, she goes back to her storage closet and just can't believe what she sees! Mold is back.
Linda is now stressed, worrying about how this could potentially affect her family being over for the Thanksgiving holiday. After searching the web for ways to eliminate mold, she learns that:
Bleach Doesn't Kill Mold
Bleach Can Contribute to Mold Growth
There's no more time to waste, and Linda is aware of the potential health risks of mold. Linda decides to call her friend to ask if she knew anyone in the industry that she could trust to remove mold within a couple of weeks from her Thanksgiving dinner.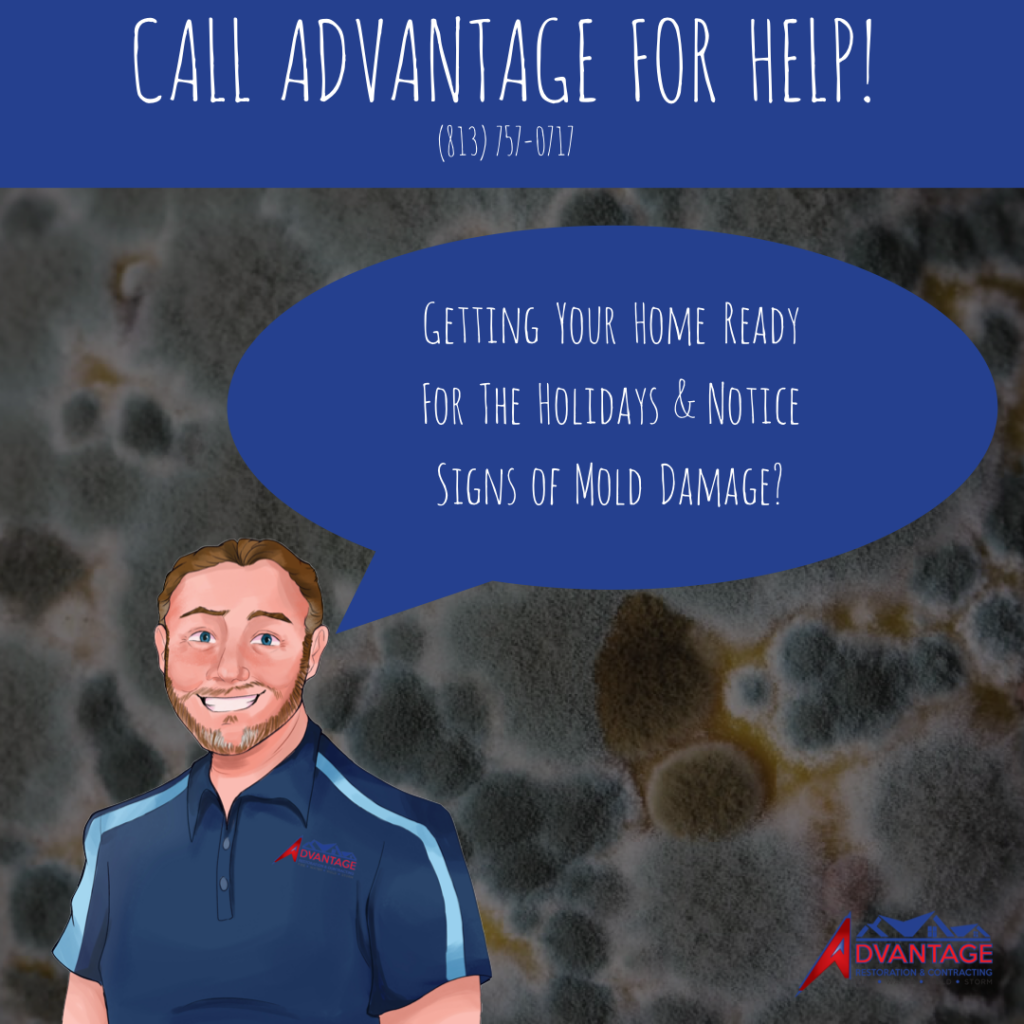 Mold Remediation in Brandon
That's when Linda hears about Jason Jones, at Advantage Restoration & Contracting in Plant City. Jason and his team have years of experience in the restoration industry, especially when it comes to mold remediation. Better yet, they provide immediate restoration support for mold remediation in Brandon.
Within a couple of hours from her phone call, Jason is able to be at Linda's home to give her an assessment of the mold damage. Once Advantage Restoration explains to Linda what all needs to be done, she feels confident in her decision to hire a restoration company to complete the job. 
During the mold damage assessment, Jason noticed that the source of the mold was due to water damaged caused by a leak in the washing machine pipe. All of which would be taken care of by Advantage Restoration & Contracting. 
Fortunately for Linda, the mold remediation process only took a couple of days and the restoration contractors were finished with plenty of time for Linda's Thanksgiving dinner. 
Don't let mold stress you out and remember to avoid using bleach to clean mold. If you ever encounter any problems with mold damage, water damage or smoke and fire damage, just give your restoration company a call! We provide fast and friendly support with over 15 years of experience in the restoration industry.