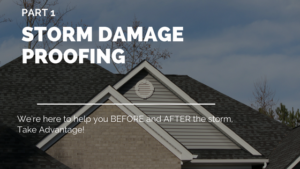 Prepping your home to prevent major storm damage that is either predicted or that can occur at any time is the best defense against wind, water, and related damages.
Without proper preparation of your home, you may end up inviting wind and rain inside, then calling a restoration pro to clean it all up.
Don't worry we're here to help you before and after any Storm damages occur!

There are Many Places in your home that are more vulnerable to Storm Damage than others, such as your windows, doors (Garage doors too!) and your roof. Taking preventive measures to help protect and reinforce these areas will most like reduce damage and make your storm clean up easier.
Tip #1: Inspect your windows and doors!
Protecting the openings of your home is one of the most important steps you can take to defend against winds and heavy rainstorms that can likely harm these entryways.
Check your windows! No, not in the glass itself (you can see that easily and you would have already replaced broken windows.) Check the weather stripping, the caulking and edges of the glass. Ensure no air is getting in or out. This is easier to check on a windy day.
TIP: Hold a tissue paper up to the areas you are inspecting to see if there is any movement. If so, repair that area. Replace the caulking or weather stripping if necessary.
Double check your doors for missing screws/bolt, wiggle the doors to see if any hinges are loose. Installing weather stripping to your doors is a great Idea to do also! Consider pre-installing anchors around doors and windows it can help speed up the process for when its time to board up to prevent minimal Storm Damage to your family home.
Tip #2: Get climbing…
… upon the roof, that is. But keep it safe!
Things to look for: Loose, missing or curling shingles
Hire someone if you aren't able to physically do this yourself or if there is any danger of falling. You (or someone) needs to inspect your roofing materials, areas around chimneys and vents. If you do have incorrect flashing around roof penetrations, such as vent pipes, skylights, and chimneys that could be an issue that needs to be taken care of.   …
Also, It is a good idea during your "Storm Damage Proofing" to check in the attic for water stains and Mold. If you do hire an inspector they will also Check this along with interior walls and ceilings.
Please be sure to repair any damage before the weather turns bad.
Tip #3: Clean the gutters
Dirty, cluttered gutters don't do their job very well. Rain can easily cause debris in the gutters and they clog up and can cause all kinds of problems for your home. When the leaves stop falling, get out the ladder or hire a pro to ensure your gutters are ready to drain!
No matter what you do, occasionally water and wind can damage your home.
Don't panic call Advantage! For all of your restoration needs! We are available 24/7, We offer emergency restoration services, if you experience significant damage and need help with Storm Damage clean up we can help repair your home from water removal to a complete rebuild!  (813) 757-0717